Retailers
BrandKeep Versus Dropbox
If you're using Dropbox, it might be tempting to stick with what you know. However, BrandKeep keeps you organized with tools that go beyond simply filing your brand assets away.
---
If you've been storing our digital assets in Dropbox, you might be wondering, why should I move them all into BrandKeep? It's a reasonable question. Let's take a look at the differences between Dropbox and BrandKeep, and dive into what makes BrandKeep a better solution for retailers.
Dropbox is built to store and share all your important files, and is focused on creating a digital space for you to access those files. BrandKeep is built to centralize and organize your digital brand assets by creating automatic workflows for storing, accessing, and working with those assets.
With unique features like Brand Cards, KeepMail, and retailer-centric Tasks, BrandKeep collects the marketing assets retailers get from brands and makes them easily accessible. It shares some commonalities with a traditional DAM tool, but BrandKeep's brand/retailer focused tools is where it shines.
What Is Dropbox?
Dropbox is an online file hosting service offering cloud storage and file synchronization with different service tiers offering varying amounts of storage space. Files you put in Dropbox will be synced to any computers where Dropbox is installed. You can also log in through a web portal, ensuring that you have access to your documents and assets at all times.
It's built to do one thing – hold all your files so you can access them from anywhere. It's a simple, powerful way to store files, centralize assets, and share them with people as needed.
How Is BrandKeep Different?
While BrandKeep and Dropbox both store digital assets, BrandKeep is designed with tools to specifically keep digital assets from brands organized and easily accessible by retailers. It's more than file storage. It's a way to stay organized throughout the retailer's entire seasonal journey.
Retailers need to be able to immediately find stored assets, have a workflow for centralizing those assets, and have a way of making the tasks related to those assets actionable within their store. BrandKeep covers all three with Brand Cards, KeepMail, and Tasks.
Brand Cards
Brand Cards give you a central point of access for everything a brand sends, including order forms, digital catalogs, marketing assets, contacts, B2B portals, MAP policies, price sheets, contacts, and more. Retailers don't have to generate and maintain a folder/file structure (as you would in a traditional cloud storage system) because everything is organized and accessible on the Brand Card.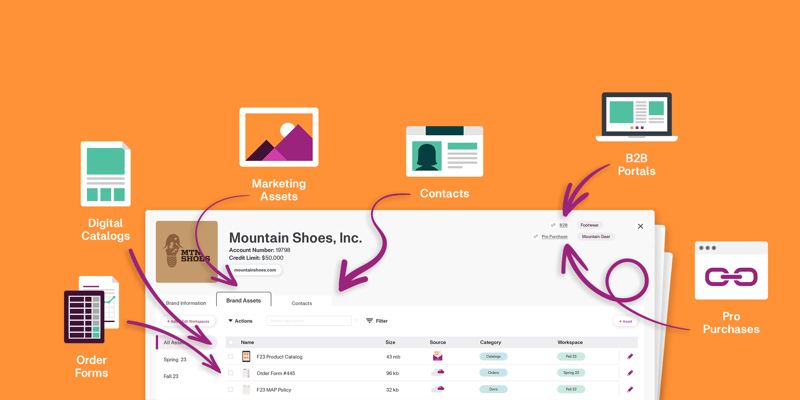 KeepMail
The large majority of your important brand assets come in through email. But, your inbox isn't a great place to keep those files organized (and yet it's the primary way many retailers store assets). It limits access to that asset to one person who has to share the asset. If that asset gets updated, some team members may find themselves working with outdated material.
KeepMail fixes that issue and handles the process of putting all your incoming assets into the correct Brand Cards. Instead of an asset going to one person, it reaches a Brand Card the entire team can access, and is always up-to-date. That means no more sifting through emails (or Dropbox!) to find assets and manually sharing them!
Tasks
BrandKeep's Tasks feature improves the usability of assets and enhances the functionality of your store and team. Tasks help your team keep track of the work that needs to be done, who is doing it, and then ties each task directly to any relevant assets. Team members know exactly what to do, and have access to the most up-to-date version of the assets related to those tasks.
More Than Just Storage
BrandKeep has the storage capabilities of Dropbox, plus the tools you need to keep your team organized and on task. With Brand Cards your team has easy, centralized access to all the digital assets related to each brand you carry. KeepMail automatically sorts and stores incoming assets, saving you the trouble of manually organizing all of those files. And Tasks lets you create action items around those assets.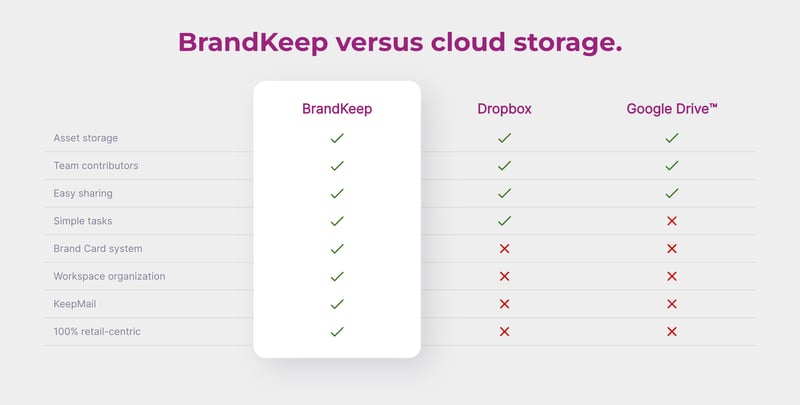 Keeping your store organized is more than just putting files into folders. It's building workflows and methods around storing assets, and making them easily available for creating forward movement in your store.